Office buildings in Yoyogi 1 and 2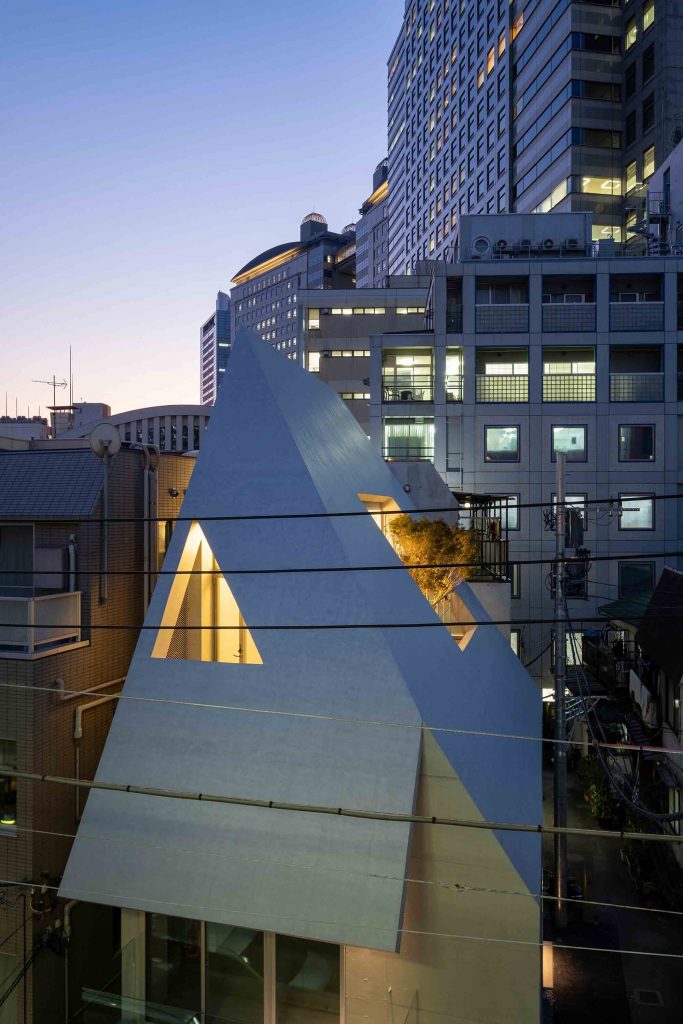 【Yoyogi Office 1】
Building Use: Office
Construction period: from June 2019 to January 2020
Stories of building: 3 stories
Main structure: RC structure
Building Area: 42.70㎡
Floor Area: 106.12㎡
Construction site: Tokyo
【Yoyogi Office 2】
Building Use: Office, Restaurant
Construction period: from June 2019 to January 2020
Stories of building: 3 stories
Main structure: RC structure
Building Area: 58.51㎡
Floor Area: 141.3㎡
Construction site: Tokyo
These two small buildings are located near Sinjuku station in Tokyo. The neighborhood is a mixture of mediumsized business buildings and old wooden detached houses. When you enter the back alley, people's lives such as plants and bicycles ooze out, and create a rustic landscape.
The client's ideal to create office buildings are making small but playful, comfortable ones, and also increasing the number of active SMEs.
It was important for me to think about boundaries and create the richness space in such a limited small site surrounded buildings.
These two office buildings built in the sametime, and having different personalities. The important characters of these buildings are each external and internal relationships.
Yoyogi Office 1
This building looks like as a large flowerpot, where plants and people can coexixt.
Plants that grow directly above ground, mixpots on the second floor terrace growing both up and down, and small potted plants outside of the third floor, all of them will mix and join together in the future.
From outside, you can look the green like flying bird. You can experience of being insects in the green inside the building.
The brick tiles with unevenly colored glazed on the powder on the outside wall give warmth to the entire building.
Yoyogi Office 2
This building consists of a large diagonal space inside and also external space cutting out diagonally.
The inside space under the large pointed roof has a 5.8M ceiling
height maximum.
A small footprint is extended diagonally to the limit to create the largest volume on that site. It is built with the maximum volume of road diagonal line restriction instead of sky rate calculation. Looking at the surrounding scenery from the terrace on the 3rd floor, you can feel as if being in an air pocket in a big city.
To realize the client's ideal I proposed a narrow building prototypes very new.